Have you received an NDIS (National Disability Insurance Scheme) plan would like to speak with someone to further understand and maximise the supports and services available to you that can help you reach your individual goals and thrive? Hessel Group can help!
Our passionate staff are experienced and knowledgeable about the NDIS and are here to assist you to interpret your NDIS plan, navigate the system and identify the right support for you by accessing the right services for your and your family's situation.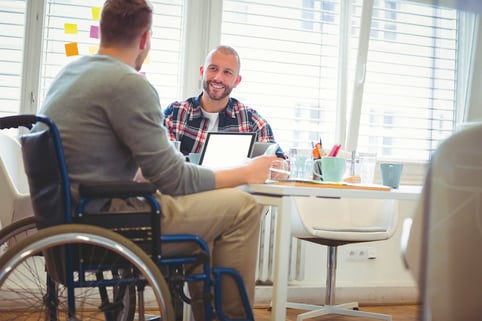 NDIS support for eligible participants can include:
Physiotherapy
Psychology
Counselling
Early Intervention Behaviour Support
Speech Pathology
Occupational Therapy
Positive Behaviour Support
Developmental Education
Social Work
Therapy
Music Therapy
Art Therapy
Dietetics
Support Coordination
Assistance with Daily Living
Social and Recreational Support
Personal Care
Hessel Group is also an approved NDIS provider and further information about the Allied Health Services we offer can be found here. These services are flexible and can be delivered in our clinics, in the community or in the home. We also provide disability support services supporting individuals living with a disability in their homes and within the community. We have a dedicated team of support workers committed to and passionate about their work with an overarching aim of supporting individuals to live as independently as possible.
Hessel Group's team of professionals operate within the community meaning they can meet confidentially with you and your family in your home or a location more convenient with no obligation or charge to remove any anxiety surrounding your plan and the supports available. They can provide a seem-less transition into the appropriate services.
We can help and answer any niggling questions you may have and move you forward towards achieving those goals.
It's time to contact us today to talk about your NDIS plan! Let's get your supports on the right track.